Private jet charter vs. first class – what's the difference? Flying over 30,000 feet in the sky has its perks and downsides. You reach your destination in the quickest fashion, but you do not have the same amenities as you would with other means of travel. Alleviate these downsides by flying with a private charter or first class. Here you'll learn about the advantages and disadvantages of each to better inform you before you purchase your next ticket.
Private Jet Charter Benefits
In the debate between private jet charter vs. first class flying, there are clear benefits to flying in a private jet. The unmatched perks to get to your destination in comfort and speed, make private jets stand out. Keep reading to learn the advantages and disadvantages of the options when it comes to flying for business or leisure.
First Class Benefits
First class flying is a traditional way of flying for those looking for comfort on their travels. This mode of flying is similar to any other commercial flight but lacks the exclusivity and perks that come with flying on a private plane or private jet.
| | |
| --- | --- |
| Private Jet Benefits | First-Class Benefits |
| | |
Benefits of Private Jet Charters
Whether you're looking for a private plane vs. private jet, there are many reasons why you would make a great choice either way. There are numerous pros of flying private when comparing first class commercial flights. The private plane vs. private jet decision is determined by the size of aircraft needed for your travels. We'll help break down the benefits below.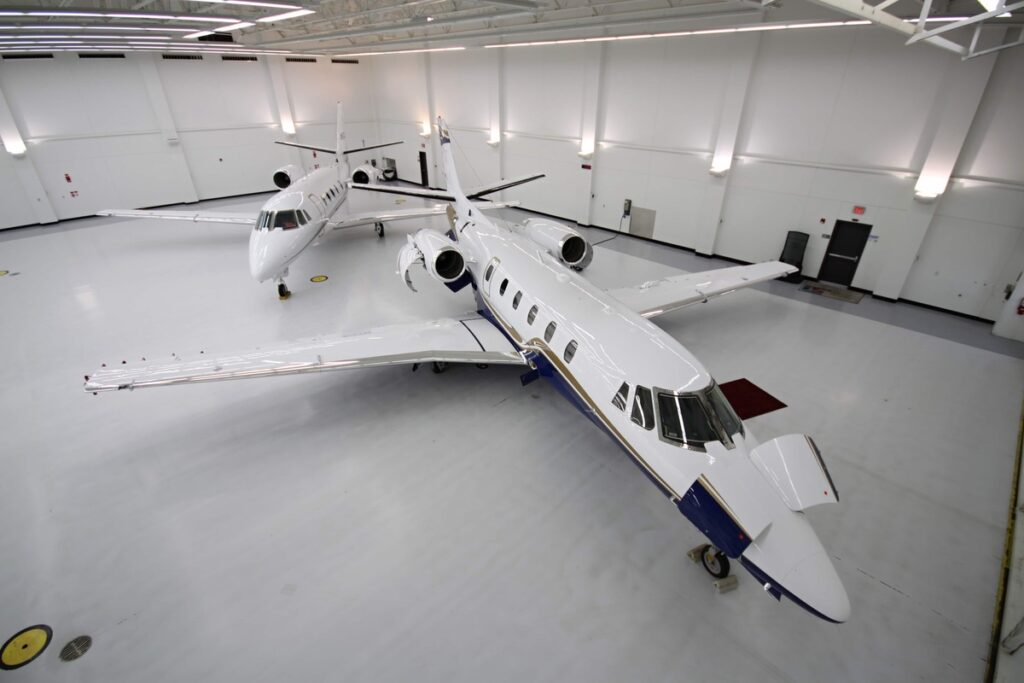 Luxury and Privacy
Private jet charters offer a one-of-a-kind luxury experience for those traveling for leisure or work. The aircraft is spacious enough to give you the freedom to explore the space or give you the option to work in peace away from any distractions. Every part of the experience is designed for comfort. From the seats to the service provided that ensures you will be ready for your private jet vacation around the world or business private business flights. The unpleasantries and interruptions of commercial flights are nowhere to be found when flying private.
Sitting in the same seat for hours on end can lead to an uncomfortable flying experience regardless of the quality of the seat. First class seats offer more luxury than your standard seat on a commercial flight. You are confined to a singular space that limits your ability to move around and find comfort. Long flights exacerbate these problems. Private jet charters provide ample space to roam and stretch your legs, leading to a much more comfortable flight.
Service and Amenities
The in-flight services and amenities feed into the luxury experience, providing you with five-star restaurant dishes and a vast selection of entertainment options. You can find lounges and private areas to offer personal space with ample legroom and luggage storage. The flight crew is there for your flight and your flight alone, which means faster and more personalized service. Another bonus is the accommodation of pets, no need to negotiate your pet onto the plane. All of these benefits add to the experience for ultimate comfort.
First class provides WiFi services and other amenities to stay connected to your team or business on the ground, but they are not completely reliable. The wifi is used by many on the flight, leading to slower speeds and unreliable connections, affecting your ability to maintain communication when absolutely necessary. There can be a time lag between a message being sent and received, potentially leading to a missed opportunity.
Schedule Flexibility
Private jet charters have the flexibility to accommodate busy schedules and easily adapt to meet your needs. These flights are not glued to a strict airliner schedule with frequent delays and prolonged processes. Private charters can leave earlier or later if needed, and can be in the air quicker than it takes to check in on a commercial flight. This also allows for charters to align with whatever time you need to fly for leisure or business.
This is a major factor for many when deciding between a private jet charter vs. first class as the benefits weigh heavily in the favor of a private charter. Not only can you arrange a flight hours before take off, but you can avoid the stress of planning when to leave or arrive at major airports. You can dodge long lines, and receive a more personalized experience.
Wading through commercial airports can be an ordeal. You need to manage traversing across terminals to finding the gate and meeting strict takeoff times. There is a lack of flexibility when it comes to flying first class. Private charters are unmatched in this front and cater to your schedule.
Work Environment
Gone are the days of working from a plane seat. Private jet charters offer lounges or conference rooms to have an environment to complete your next project or secure a business deal. These amenities are private and give you room to think without the annoyance of a large airline. You can rely on the technology to perform with stable connections and clear communications between clients or coworkers. Information easily relays between the air and the ground.
Airport lounges can often be busy and full of distractions – a less than ideal space to efficiently complete work. Executives and employees may face delays that lead to more time spent in these spaces, derailing valuable progress and time. Private charters drastically speed up the process of boarding and provide efficient and private space so you can complete work in a timely manner.
Commercial flights are packed to fit as many people to fly more economically. This leads to a lack of privacy and creates an uncomfortable environment of having to move around other passengers to traverse the cabin. Finding time to relax may be difficult with the variety of noises and distractions during the flight.
Access to Airports
Flying private affords you the ability to have easy access to a variety of airports, delivering endless possibilities for travel and routes. You can expand the activities of your vacation or the scope of your business with different ways to connect. Along with this is the ease of the boarding and departing process as there are no lines to wait in when flying private.
You have no control over the status of your flight when flying first class. There is no way to ensure leaving at your departure time, which affects plans for your arrival and subsequent meetings. Airports around the world field an unfathomable number of flights per day. The chaos leads to delays and unexpected cancellations due to weather conditions or other factors. Private charters bypass the air traffic by departing and landing at private airfields that are closer to your final destination.
Benefits of First Class
Flying a first class ticket grants some perks when it comes to access to private spaces in the airport with lounges and rewards. These tickets also provide some privacy and luxury while flying compared to the other seats on a commercial flight. The pros of first class share portions of the benefits of flying on a private plane vs. private jet, but lack major components to be considered the better option.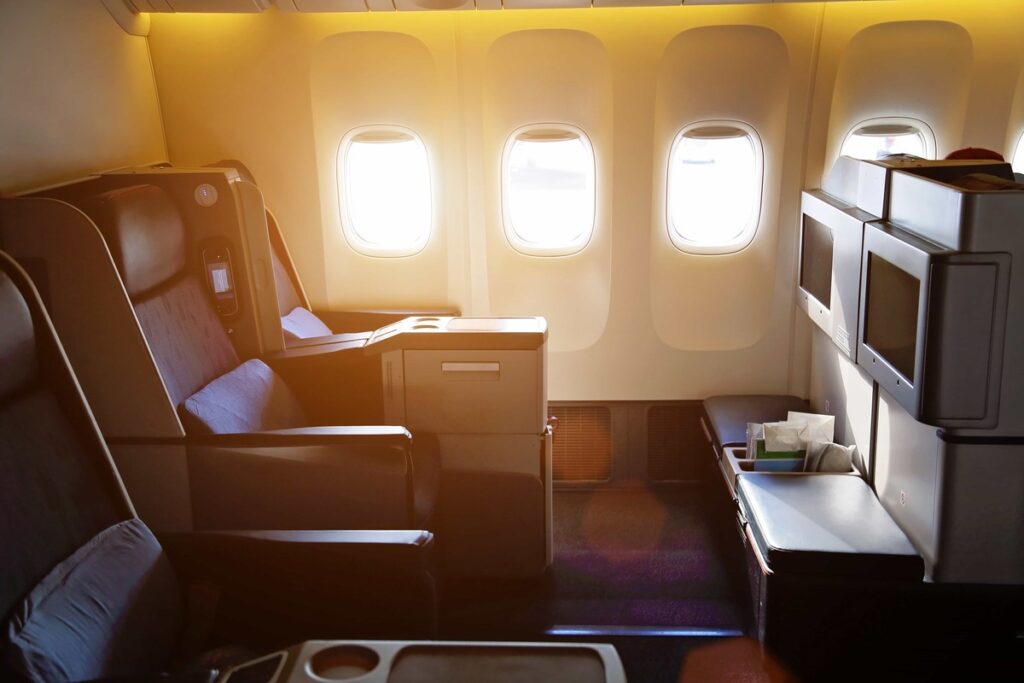 Cost
Directly comparing the price of a flight for first class and a private jet charter will clearly show the discrepancy in fares. First class offers a cheaper flight due to the volume of passengers on the same flight. You will still receive quality service and amenities during this flight. The airline you select limits and varies your options. The sacrifice of flying cheaper limits access to certain amenities and the likelihood of a comfortable flight.
Boarding Priority
First class affords you the ability to board the plane before any other passengers. You can take your time to stow your overhead luggage and move about the plane without waiting behind others. Find comfort in your seat and relax before the plane takes off. This is a short-lived luxury as the rest of the flight boards soon after and a portion of the luxury and privacy is stripped away.
Storage Priority
Similar to the previous point, you will have enough space to store any items you brought onto the plane. You do not need to worry about making enough room for one of your bags in the overhead compartment. There are only a select few sitting in first class seats. You won't have to worry about other bags blocking your luggage or placing your luggage in an overhead space a few rows behind you.
Complementary Service
In a first class seat, you can expect to receive complimentary alcoholic beverages and dining options from a premium menu. Aside from the refreshments, first class seats come with free entertainment options and WiFi. Over time, you can accrue loyalty benefits with airlines to access more perks.
Pre-Flight Services
Along with the services mentioned above, first class tickets provide some extra benefits over economy and business tickets. Accelerate passing through security with a designated TSA line, avoiding large crowds and getting you to your gate quicker. First class ticket holders check their bags for free and are handled with special care upon loading the plane.
What you Should Choose
Comparing private jet charter vs. first class can seem like a daunting task, but we provided the benefits to each to help ease the decision. Private jets offer unparalleled service from the moment you step onto the plane to the moment you arrive at your destination. The worries of flying commercial dissipate which leads to a more relaxed experience, giving you the choice to find what suits you best. Commercial flights can save money in the short run. These flights lead to missed opportunities with the lack of reliability and flexibility.
Private charters are great for business or leisure, they help executive teams stay comfortable and connected to the rest of the company while avoiding the stress of commercial airports. First class cannot compete with the amenities and services of private charters, from the ample seating spaces to the feeling of personalized luxury, private charters offer an unmatched experience.
Your Next Private Jet Charter is Only a Click Away
Ensure you don't miss the luxury and experience of a private jet. Request a quote for charter jet rental today to make the most out of flying. Whether you are deciding between a private plane vs. private jet charters, we are here to help.