You may be hard-pressed to find a reason not to book private jet planes over commercial flights to your favorite destinations around the country and across the globe. Skipping the hassle and headache of long lines, delayed flights, and busy public airports are just a few of the reasons why booking private air travel is the superior choice. With your own private jet to transport you, your family, friends, or business partners, you can enjoy the utmost privacy, safety, luxury, and comfort for a stress-free experience. From your time spent booking to boarding to landing safely and on-time, your smooth and seamless travel experience awaits you. One way to do that is through multi-leg flights.
The Benefits of Multi-Leg Flights on Private Jet Planes
If you are looking to book an upcoming trip that involves multiple destinations to travel to, it is important to understand each step of this typically time-consuming process. By planning multiple-leg flights from one destination to another in a single trip, you can spend less time on planning and organizing and more time at your destinations of choice. The major benefit multi-leg flights is you save a great deal of hassle during your multi-city flight path because all flights are listed as the same flight number on one single ticket. Instead of booking single one-way tickets, you choose all desired flights and selected dates at one time.
How to Plan Multi-Leg Flights
This process is ideal for business teams, families, or singles looking to charter a private jet plane from multiple locations with the same fixed based operator (FBO). From selecting the best private jet company for your needs, to choosing an aircraft, to identifying your favorite in-flight amenities, the following steps will guide you through the process of planning multi-leg flights on private jet planes.
Identify Your Destinations
The first step in booking your multi-leg flight on a private plane is to identify which cities you plan to travel to. Perhaps you are planning a cross country trip from Los Angeles to New York with a stop in Aspen for a weekend of high alpine skiing. Or maybe you're casting your sights abroad to spend a few weeks exploring the European cities of Lisbon, London, and Florence. No matter where your next adventure takes you, you must spend some quality time considering your route and the stops your private jet plane can make.
To help with the process, consider working with an experienced travel agent who provides industry insight and courteous service to ensure your multi-city trip remains efficient. Charter Jet One's luxury private travel agents provide prompt, premier customer service during your private jet travel to save you time and get you where you need to go — no matter how many cities your journey takes you to.
Select a Luxury Aircraft
Choosing the right private jet for your next multi-leg flight has everything to do with size, speed, and comfort. According to Forbes,
"Some have bedrooms and showers, others have business class style seats.  Some have private sleeping compartments, others do not. Others have extra fuel tanks to add additional range over the exact same type of jet.  In this category it really comes down to looking at the specific planes that are available when and where you want to go."
The market offers everything, including mid-size cabin jets with sleek interiors and great baggage capacity. There's also super light jets that people love for their spaciousness, plus more route options. Then, there's small cabin jets ideal for their great luggage capacity and excellent cruising speed. Of course, these categories of jets vary depending on manufacturer regarding luggage space, cabin size, and speed. When perusing Charter Jet One's exclusive private jet fleet, you will discover the best business jets in the world. Our range of aircrafts include turboprops, midsize, and jumbo jets that you can choose from based on the size of your party, desired amenities, and travel time. Request a charter jet quote today to speak with our agents about aircraft options for your next multi-leg flight.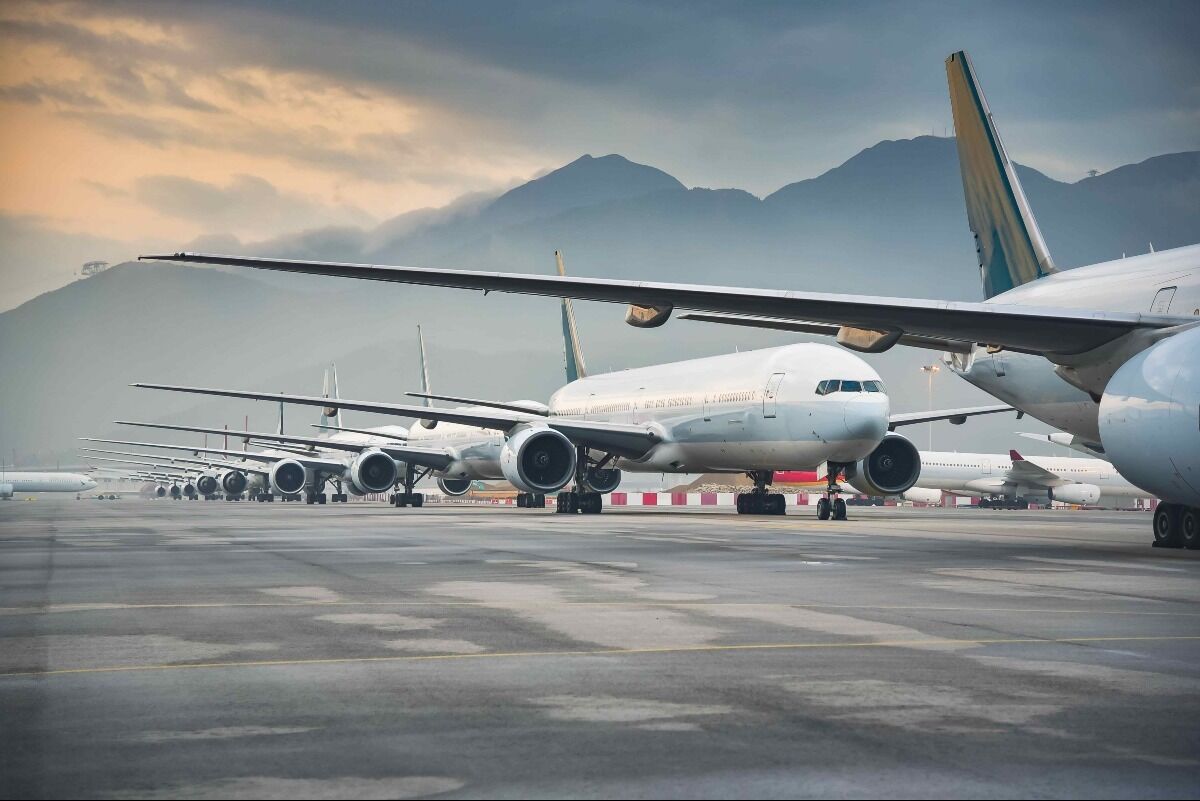 Choose a High-Quality Fixed Base Operator
When selecting an FBO for your next multi-leg flight, make sure you align with a high-quality provider whose industry experience ensures you receive the best service and aircrafts. A fixed base operator is a private jet airport given authority by a commercial enterprise to operate their fleet of planes on. They also provide fueling, parking, and hangar space to the aviation community. So, when you book your private jet plane, nearly everything is included and managed by the company you book through.
Finding the best FBO for a multi-leg flight can make all the difference. Look for providers who use the same plane and crew for the entire trip. That way, you know what to expect when you get to the hangar. Becoming familiar with who's taking care of you is also a wonderful feature of this experience. It ensures your needs are met with consistency and care no matter how many destinations you hop between. This is especially helpful if you plan to travel overseas or have a private jet flight overnight, as these flights can be more exhausting.
Charter Jet One offers maximum comfort and privacy ensuring you experience a multi-flight journey that is stress-free and seamless from booking to boarding to landing in your desired destination.
Curate In-Flight Amenities
Seeking a high-class personal or business aviation experience? Chartering a private jet plane with Charter Jet One means traveling with an industry leading company whose curated services are designed to fit your unique travel needs. When it comes to high-end amenities, we offer Standard and Premium Catering Packages. Our wonderful and highly trained in-flight staff is available to arrange catering services ranging from continental breakfasts, sandwiches, entrees, salads, or appetizer platters depending on the time of day. These premium services include customizing everything from food to beverages, from liquor to champagne to your desired non-alcoholic beverages of choice for ease of experience from take-off to landing. Ready. Set. Jet.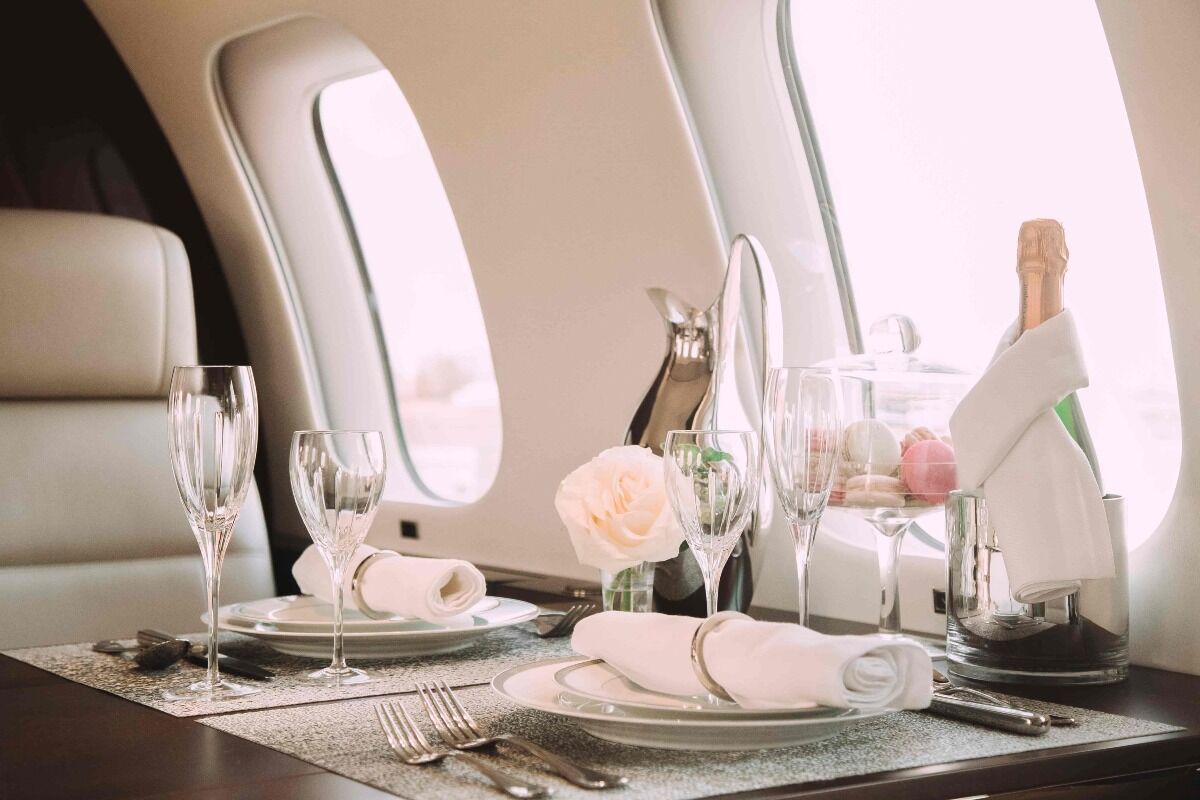 Book with a Private Jet Representative
To help you each step of the way during your multi-leg flight on a private jet plane, let the experts take the lead. The customer service you receive from Charter Jet One means direct and clear communication with trusted answers and expert guidance to make your trip as peaceful and memorable as possible. Our exceptional sky agents help you design the best itinerary for you and your travel members based on desired times to fly and arrive to your destinations, the proper aircraft, and, of course, luxurious amenities tailored to your every travel need.
Get Expert Guidance with Charter Jet One
When it comes to multi-leg flights, it's crucial to have the right guidance to ensure your busy flight path is designed with the utmost efficiency regarding time zones and travel objectives. According to Forbes,
"The best advice is to find a good charter broker. Like a financial planner, travel agent, insurance broker, yacht broker or real estate agent, having somebody you develop a rapport with and who you can build trust with is probably your best asset."
Get a Charter Jet Quote from Charter Jet One
Seeking a luxurious, comfortable, stylish, and exclusive flight experience for your next multi-city trip? Consider Charter Jet One. Our team provides a premier booking experience to save you time and stress. With the fastest booking process in the business, luxurious jet interiors, curated amenities, and access to hundreds of airports worldwide, we are ready to service you.
Connect with our experienced sky agents today to inquire about booking a multi-leg flight on a private jet plane to get you to your desired destination.