Is flying safe right now? It is when you fly charter. We know that these past few months have been challenging for people all over the world. If you are one of the many people who must travel for business or personal reasons, Charter Jet One is here to make your journey safe and stress-free with private aviation services. We encourage you to avoid commercial airline travel during the Covid-19 pandemic by choosing charter flights. To further support your health and well-being, we've compiled 10 tips for flying safe.
Is Flying Safe Right Now?
Is flying safe right now? Yes, flying is safe when you choose to travel by private jet. Flying privately offers more opportunities for you to adhere to the CDC's Covid-19 recommendations for social distancing, hand washing, and avoiding public spaces. When you fly privately, you can avoid the crowds of commercial airports by going directly from the fixed base operator to your jet. While we still recommend wearing masks and gloves in public spaces, going through a fixed based operator allows you to avoid the public spaces, lines, and stress of flying commercially.
Safety Precautions
Once you have boarded your flight, the maximum capacity of our jets is low, but you can also arrange to fly alone. Of course, we are taking maximum precautions to protect your health by enhancing our sanitation protocols in the cabins in accordance with the CDC guidelines. Our dedicated staff and crew are also practicing social distancing in an effort to minimize your exposure and provide consistent and impeccable service.
Dependable Transportation
When you fly privately with Charter Jet One, we ensure that your experience will be expedient with on-time flights and rare cancellations. You can depend on our professional and luxurious services to get you to your destination safely. This is increasingly important since according to Vox:
"an average of 5,620 flights, or about 39% of U.S. airlines' schedules, were canceled from April 1 to April 12."
Unlike flying commercially, at Charter Jet One, we're committed to offering you any aircraft, anywhere, anytime.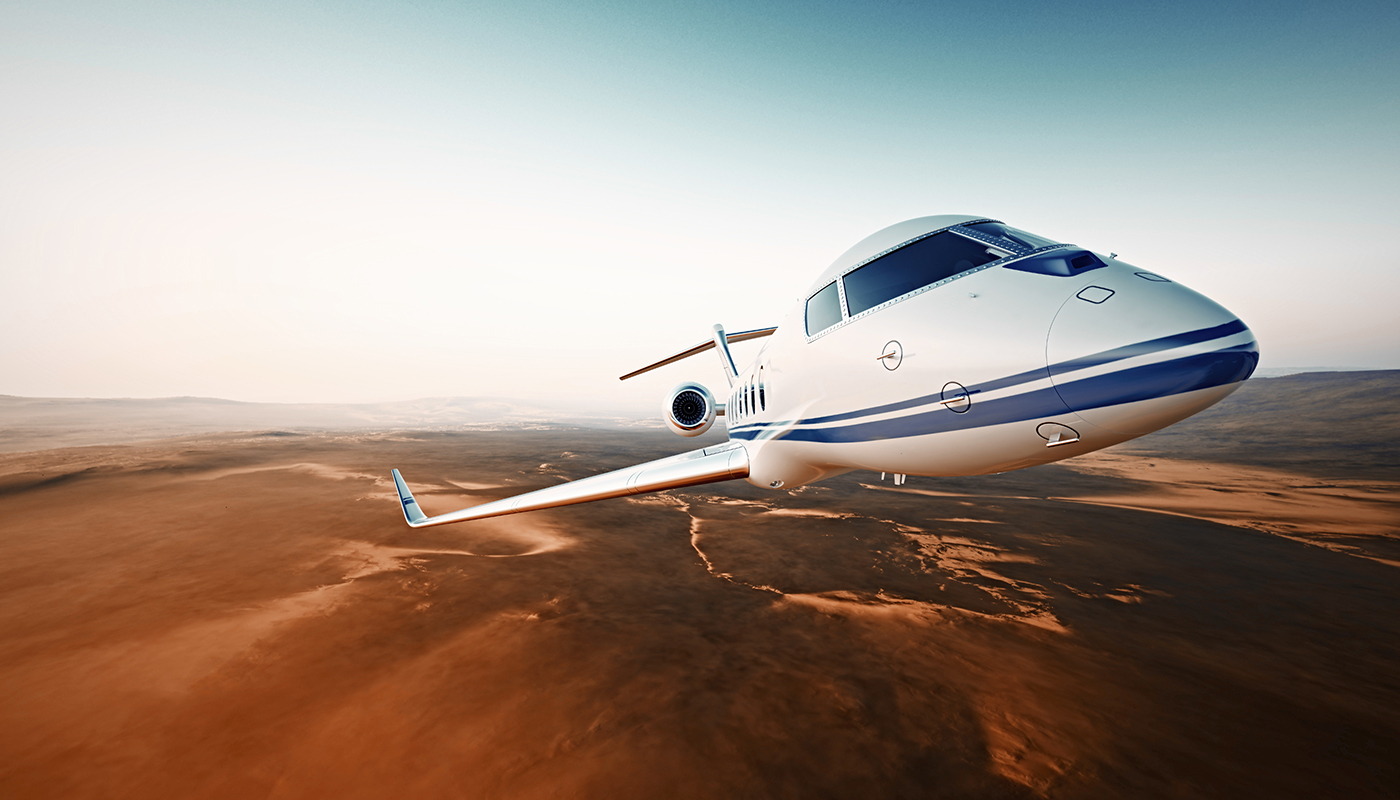 10 Tips for Flying Safe
While you can rest assured that flying privately is a safe option, we still encourage you to follow these tips for flying safe to ensure your health and well-being. So, if you're wondering, "is flying safe right now?" it's wise to adhere to these guidelines when flying privately.
1. Monitor Your Own Health
One of the most important tips for flying safe is to monitor your own health. If you're feeling unwell, it is wise not to travel. Scientists have discovered that Covid-19 has an incubation period of about two weeks, so it's a good idea to rearrange your travel plans even if you've just got a slight fever or cough. Taking this simple precaution will help keep you and others around your safe and well. If you need to change your travel plans, Charter Jet One's friendly concierge service staff are happy to help you.
2. Plan Ahead
Flying privately is a safer way to travel, but there are other elements of your travel plans that may have changed due to the pandemic. To avoid any interruptions in your journey, one of our primary tips for flying safe is to plan ahead. While flying privately allows you to skip the commercial TSA security lines, baggage check process, etc. we still recommend arranging ground transportation ahead of time. Whether you have a private driver or your taking a limo service, many drivers are limiting their hours, so it is a good idea to make sure your ground transportation is scheduled and confirmed.
Contact our team at Charter Jet One to help arrange your ground transportation.
3. Stay Current on Vaccinations
Staying up-to-date on routine vaccinations is always recommended, but it is especially important to protect your immune system when you're flying internationally during the pandemic. According to the CDC, all travelers should be vaccinated for measles-mumps-rubella (MMR), diptheria-tetanus-pertussis, varicella (chickenpox), polio, and influenza. So, if you're seeking tips for flying safe in light of the current situation, we suggest reviewing the CDC's country-specific guidelines and consulting your health care provider before making an international trip.
4. Prepare Personal Sanitation Measures
While flying privately allows you to avoid most public spaces and adhere to social distancing, we still suggest bringing some personal sanitation items. If there is any time during your journey that soap and water aren't available to wash your hands, you should use a hand sanitizer, preferably one that is 60% alcohol. Of course, once you're on board your private flight, you'll have access to our luxurious rest rooms where you can wash-up and relax. Since Covid-19 spreads through droplets of saliva, it is also recommended that you wear a mask in public spaces and avoid touching your face as much as possible.
5. Boost Your Immune System
To maximize the strength of your immune system, it is important to stay hydrated, well-rested, and to take vitamin C as either a supplement or in the form of food. This means either preparing a healthy meal at home before you fly or arranging private meal orders from restaurants or chefs during your flight with Charter Jet One. Our client services representatives can accommodate any dietary concerns or requests for food to help boost your immune system during your flight. Of course, while it is ideal to get a good night sleep before flying, you can also rest comfortably in our luxurious cabins in route to your destination.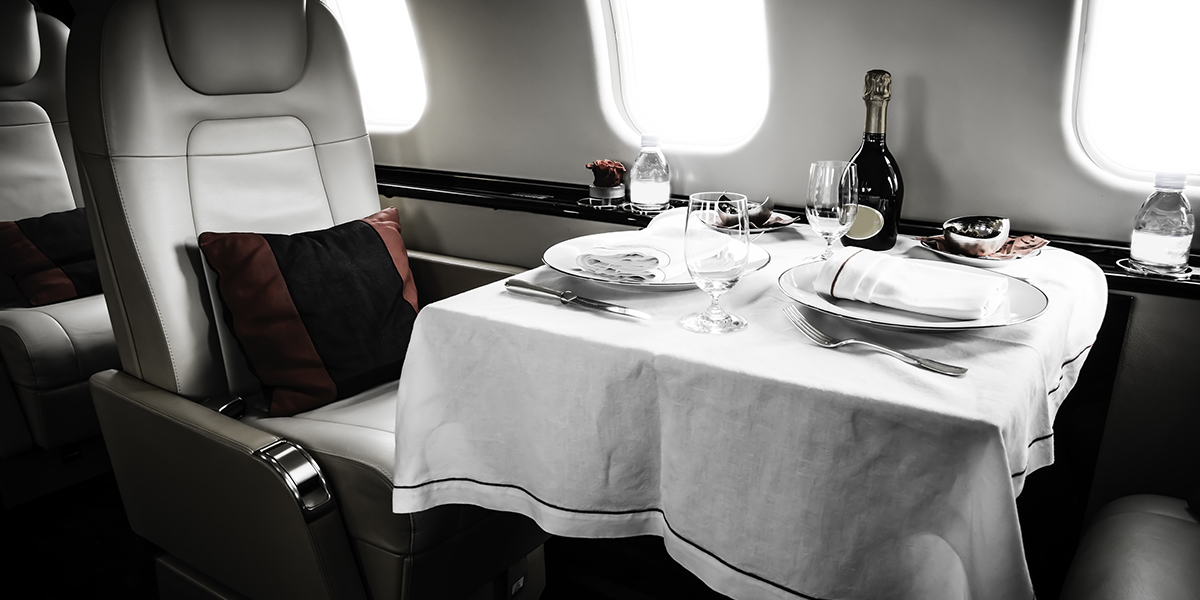 6. Avoid High Contact Areas
This might seem obvious, but even getting take-out from your favorite restaurant before your flight or going to the bank might pose an unnecessary risk. We suggest taking advantage of online delivery services and skipping non-essential errands as much as possible. Of course, by choosing to fly privately, you will also drastically reduce your exposure to crowds and high contact areas.
7. Door-to-Door Service
Although flying privately takes a lot of the uncertainties out of your travel experience, we still suggest that you avoid any unnecessary stops between your home and boarding your private jet. If possible, have your driver pick you up at your home and drive directly to the fixed based operator where you can immediately get on your chartered flight. This will help minimize any possible exposure and maximize the efficiency of your travel time.
8. Luggage Precautions
As soon as your car drives up to your private jet, one of our friendly staff members will greet you (at a socially appropriate distance) to stow your luggage. Even with our current sanitation measures in place for all staff and fixed base operator employees, we advise you disinfect the handles of your luggage before handling your personal items. Of course, it is a good idea to wash your hands after handling your luggage or touching anything that has been exposed to the public.
9. Use Air Vents
Most state-of-the-art jets have High Efficiency Particle Arrester (HEPA) filters that remove 99.999% of airborne contaminants including viruses and bacteria. This high-tech filtration system is designed to ensure that you're breathing the highest possible quality of air. Using this clean air filtration system by turning on your personal vent will help support your immune system and ultimately your health.
10. Request Special Accommodations
What makes you feel safe while flying? When you fly privately with Charter Jet One, you can request any variety of accommodations to make your flight more comfortable and safer. This may include extra meals, refreshments, adjusting the cabin temperature and humidity levels. All of these amenities can help protect and comfort you during your journey which is our number one priority. No matter what the request, our helpful crew can meet your needs and help select the right precautions to keep you safe.
Travel Safely with Charter Jet One
So, is flying safe right now?
Flying charter is perhaps the safest option right now. Especially when you choose Charter Jet One. We are dedicated to protecting your safety, health, and well-being—above all else. Now, more than ever, we're dedicated to delivering the best services and in-flight accommodations to make sure your journey is as comfortable and safe as possible. While there have been a lot of changes in the world lately, you can depend on Charter Jet One's services to be the dependable transportation you need for business or personal travel.