We know this is a difficult time for individuals all over the world. Not only has Covid-19 created a widespread sense of uncertainty, but it has disrupted people's lives in so many ways. Many commercial carriers have suspended or severely reduced flights, which has left people without many options for long-distance domestic and international transportation.
To our valued clients:
Now more than ever Charter Jet One is dedicated to bringing you the very best we have to offer. We want to reassure everyone that throughout these unsettling and tenuous times our company is taking strict precautions to ensure that our clients, employees and their families remain safe and healthy.
Every aircraft is thoroughly disinfected in accordance with the CDC guidelines prior to each charter. Our ENTIRE team of dedicated staff has been exercising social distancing at work, as well as in their personal lives, in an effort to minimize exposure and continue providing you with outstanding service. In addition to these enhanced measures we at Charter Jet One are committed to providing the best experience possible and to getting you and your loved ones where you need to go safely now and anytime you need to partake of our services  …we still and will continue to offer any aircraft, anywhere, anytime.
Please be careful and stay safe.
Best regards,

Richard Berger
Chief Executive Officer

Charter Jet One
In times like these, we want you to know that Charter Jet One is here for you. When you choose to fly privately through CJ1, you can rest assured that we will mitigate all risk and transport you safely to your destination. We are currently operating with full functionality and increased safety protocols, in light of the current situation.
Benefits of Flying Privately
Flying commercially presents a lot of risks and uncertainties—especially during times like these. In terminals, there is increased exposure to crowds of people and the cleanliness of the large cabins is often unknown. Commercial passengers are also beholden to security and health screenings which can add hours to your trip. Not to mention, there aren't a lot of ways to abide by the social distancing mandate when flying commercially through expansive airports.
Fortunately, flying privately is a safe, luxurious, and expedient alternative. While, flying via private jet has become an increasingly popular mode of transportation for wealthy individuals, it doesn't have to be. We offer cost-effective charter plans that allow corporate business travelers and large families to enjoy the benefits of flying privately. If you need to fly for business or personal reasons, contact Charter Jet One's travel agents to find out how we can make your travel experience safe, stress-free, and efficient.
The luxurious experience of private aviation also offers more protection. You can arrive just fifteen minutes before your private flight, use free valet parking and safely go from the fixed base operator directly to your private jet. This simple process is convenient and allows you to adhere to the social distancing protocol. Even though the maximum passenger capacity of our jets is already very low, you can also arrange to fly alone to ensure your own safety.
While our jets are already known for their cleanliness, we have now enhanced our sanitization protocols after every flight and we're staying vigilant checking the health of our on-board staff. Chartering a private jet allows you to remain in control of your personal space. In your cabin, you can control the humidity, air flow and take advantage of ample leg room to ensure your comfort and health.
Of course, your safety is our number one priority now and always. Our fleet of private jets are some of the most technologically-advanced aircraft available. They are equipped with multiple backup systems and integrated avionics, so you know that your plane is technologically equipped to safely get you to your destination.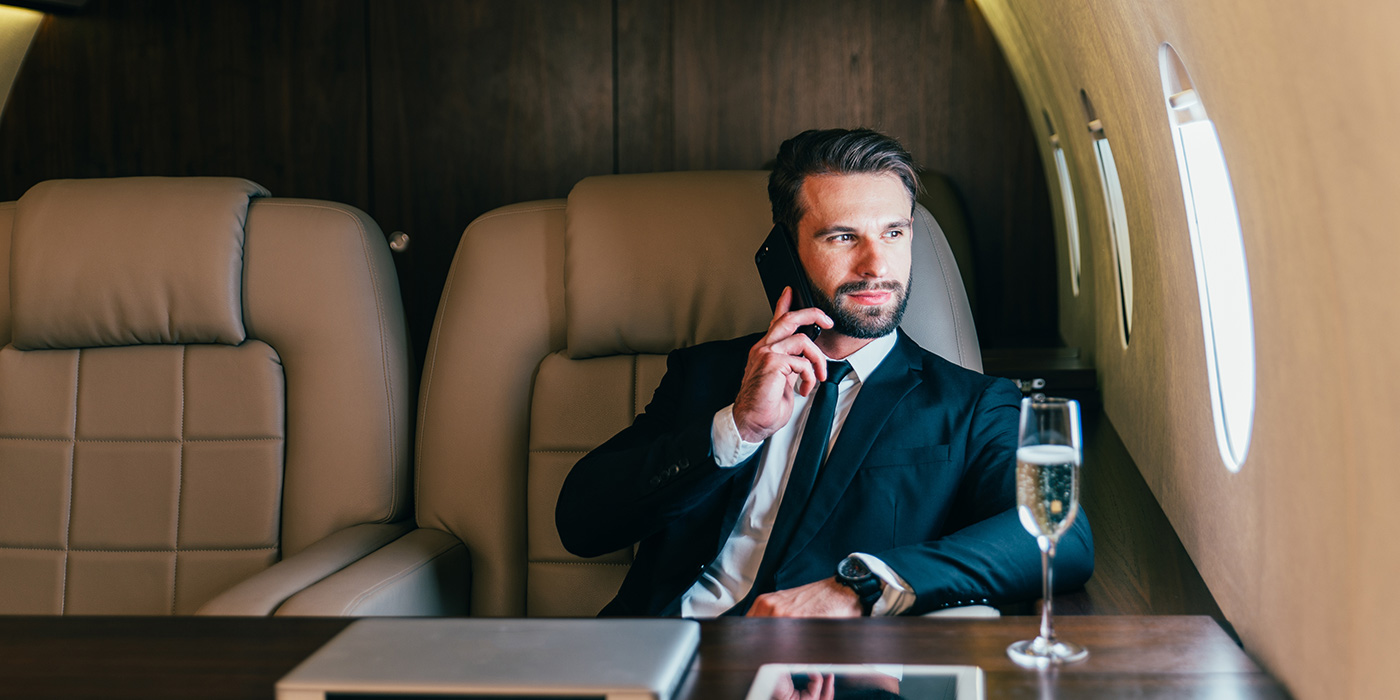 To stay in compliance with all pandemic-related aviation guidelines including municipal, state and federal, our expert team is closely monitoring the situation and communicating with operators and personnel. This means that you don't have to worry about the status or operations of your flight. Instead, you'll be able to relax and travel in peace.
In chaotic times like these, there are a lot of distractions that can be detrimental to  your workflow and your personal time. Flying privately will allow you to stay productive and present. Take business calls, do paperwork, or watch a movie in the comfort of your own space. You can also have your flight catered with your preferred food and beverages, so that you can stay healthy knowing that many restaurants and bars will be closed when you arrive at your destination.
Whether you want to minimize your risk of exposure or feel at ease knowing there will not be interruptions to your plans–we're ready to accommodate your needs.
We're Ready for Your Next Flight
While everything else in the world has changed drastically, we remain steadfast. Charter Jet One is continuing to operate our private jets with increased safety protocols. No matter what the course of events might be, we are ready to fly you to you safely to your next destination. You can choose from a variety of luxurious fixed base operators all over the world, making your travel experience simple, seamless and safe—from your home to your final destination.
Our flight concierge services are built to deliver comfort and satisfaction on every flight—this  means no request is too big for us to handle. If you have a special request for accommodations for ground transportation, catering, comfort or security, let us know. Our client service representatives are happy to help meet your needs so that you can relax in our care. While we always operate with the highest-caliber services, we want to be especially attentive to your needs at this time.
If you are a first-responder or medical professional on the front lines of this pandemic, we are extremely grateful for your service. In response to the growing need for medical personnel to travel to high-impact areas to help sick patients, our medical air transport service is also available. Contact our team to learn more about how we can accommodate medical air transports.
We know there is a lot of confusion and concern around travel restrictions both domestically and internally. If you have questions about how current travel bans will impact your plans, reach out to our corporate concierge team to find a solution that works for you.
As you might expect, we are experiencing a high volume of requests and bookings due to an increased demand for private jet transportation. If you want to lock in your rates and secure your travel plans, we recommend that you contact us today to book your flight. As always, thank you for your loyalty now and always. We take pride in continuing to deliver exceptional services and unrivaled customer satisfaction for private jet travel.