Looking to visit the nation's capital? Use a Washington D.C. private jet airport to make the most out of your travels. There are a variety of must-see attractions in the city, like the White House and National Mall, as well as a variety of activities ranging from the nightlife in Georgetown to hiking through Shenandoah National Park in nearby Virginia. Charter Jet One private jet rental services alleviate the hassle of flying commercial and allow for more streamlined travel. Washington D.C. FBOs are available around the city for convenient access to the surrounding areas. Fixed-base operators, or FBOs, are the airports and terminals dedicated to private jet travel. Learn more about Charter Jet One.
Washington D.C. private jet airports provide the easiest way to visit the city for business or leisure. Avoid the stress of commercial airports and inflexible schedules.  For business, the days of losing precious time on long boring commercial flights are recouped on private jets. Work in luxury with the best amenities available, meetings are no longer halted and distractions of commercial flights are eliminated. For leisure, the flight is now part of the vacation as there is no need to deal with the woes and lack of privacy on commercial flights. Enjoy more of your well-earned vacation with the best service and convenience you can find during a flight. Learn more about our private jet charter fleet to find what is right for your travel.
Check out the below list of popular Washington DC private jet airports before booking your next flight to DC.
Private Jet Airports Near Washington DC List (Regional)
Washington DC Private Airports Directory
Washington Dulles International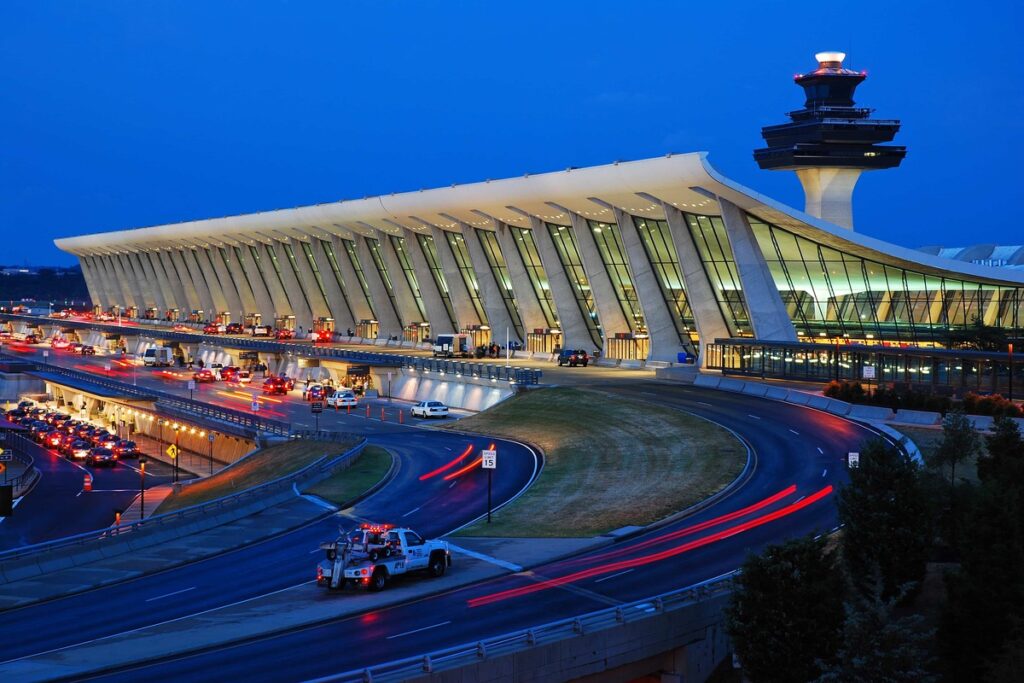 Ronald Reagan Washington International
Baltimore/Washington International

Manassas Regional Airport
College Park Airport
Potomac Airfield
Make the Most of Your Trip to Washington D.C.
Some of our favorite places to visit:

The National Mall
The National Mall stretches two miles from the Lincoln Memorial in the west, to the U.S. Capitol in the east – with 11 Smithsonian museums and over 100 unique monuments and memorials. There are great architectural feats along the mall with many other notable buildings within walking distance of the mall. Some must-see attractions are the Lincoln Memorial, Reflecting Pool, Washington Monument, and any of the Smithsonian Museums will provide an unforgettable experience.
Pennsylvania Avenue
This notable avenue in the center of downtown DC boasts sights on some of the most important places in the city. This iconic avenue provides unrivaled views of the U.S. Capitol and takes you right to the front of the White House. The avenue has hosted a variety of parades, celebrations, and marches to mark important periods in U.S. history. Walking the avenue from east to west will walk you through downtown D.C. to the beginning of Georgetown.
Georgetown
Just outside of downtown D.C., Georgetown offers a full day of exploration. You can find quaint coffee shops and bakeries along Main Street and Wisconsin Avenue as well as ample shopping opportunities to find exactly what you need. Rest, recover, and enjoy the night out at any of the bars and restaurants in the area that provide a high quality experience.
Rock Creek Park
In the Northeast corner of D.C., you can find the hidden gem of Rock Creek Park. For those wanting to escape the hustle and bustle of the city, the park offers a multitude of trails, with an eight mile loop to get a feel for the park. The park is also used for horseback riding, concerts, boating, and more.
Shenandoah National Park
Just 75 miles outside the city of DC, Shenandoah National Park, located in Virginia, houses some of the Blue Ridge Mountains. There are over 200 trails to explore ranging from an easy stroll through the park to strenuous scrabbles to reach high peaks. The park also offers the Skyline Drive, a 105 mile road that runs north to south along the top of the Blue Ridge Mountains for great views of the park and surrounding areas.
All of these places are easy to access from Washington DC private jet airports and provide a great way to explore the city whether you are there for business or leisure.
Find a Washington DC Fixed-Base Operator
Finding the right private jet airports near Washington D.C. can seem daunting, but it is as simple as speaking with a concierge at Charter Jet One. We can arrange all the details, from the departure time to the private aircraft, and find what is most convenient for you to maximize your business or leisure travel experience. With Washington D.C. private airport locations, we can ensure a luxury travel experience that's private and safe.
Your Washington DC Fixed-Base Operator Awaits: Book Your Flight Today
If Washington D.C. is on your travel list, these D.C. fixed-base operators provide a convenient and luxurious travel experience. Excellence is our top priority and you can expect that the aircraft, amenities, and experience provided will speak for itself. A private jet airport near Washington D.C. awaits those traveling for business or leisure, we can be there to help you find which is right for you.
If you are ready to book your trip to a Washington DC private jet airport, contact Charter Jet One to receive a quote for private jet travel today.