Traveling to New York City by private jet can be a truly luxurious and convenient experience. Taking a private jet to NYC allows you to avoid the hassles of commercial air travel while still getting you to your destination quickly and safely. One of the most important aspects of travel by private jet is utilizing Fixed-Base Operators (FBOs) located in New York for optimal convenience.
Here are the Top 10 Benefits of Using a New York FBO:
Convenience and Flexibility
Private jet travelers enjoy the convenience of flying on their schedule rather than being tied to commercial flight times and routes. You can even book travel to a private New York FBO with as little as four hours notice. You won't have to worry about the flight delays and cancellations that often plague commercial airline travel. Ultimately, traveling on a private jet to NYC offers unparalleled flexibility regarding scheduling and destination options.
Some of the most popular private airports near NYC Charter Jet One clients choose:
John F. Kennedy International Airport (private terminal)

LaGuardia Airport (private terminal)

Teterboro Airport
Check out our list of the top airports before booking your next private jet to New York.
Privacy
Flying Charter Jet One to and from New York City is a great way to maintain privacy. With FBOs located away from the main airport terminals, you won't have to worry about being seen by other travelers or having your identity disclosed. You and your chosen fellow travelers can enjoy private jet travel to a New York FBO discreetly and without unwanted attention.
Faster Check-In/Check-Out Times
The check-in and check-out processes for private jets at New York City FBOs are much faster than at commercial airports since fewer people travel with private jets. You won't have to wait in long lines just to check in or get through security. This makes it convenient for busy travelers who want to get in and out quickly.
Reduced Security Risks
Private FBOs provide an extra layer of security since they are not open to the public and only accessible by approved aircraft. This reduces potential risks associated with congested airport terminals, ensuring a safer arrival and departure. Security at private FBOs is further enhanced with CCTV cameras, access control systems, and other surveillance technologies.
Additionally, security personnel are present and provide an extra layer of protection for travelers. These measures ensure that only authorized visitors and personnel have access to the facility and its surrounding areas, ensuring a safe journey for all passengers.
Private jets also require less paperwork than commercial flights, eliminating potential risks associated with incorrect or incomplete documentation. Ultimately, traveling by private jet ensures your travel experience is as secure as possible.
VIP Treatment
Charter Jet One offers VIP treatment from booking your flight until arriving at your destination. Our team is available 24/7 to answer any of your questions or concerns about private jet travel to NYC and help ensure that everything runs smoothly.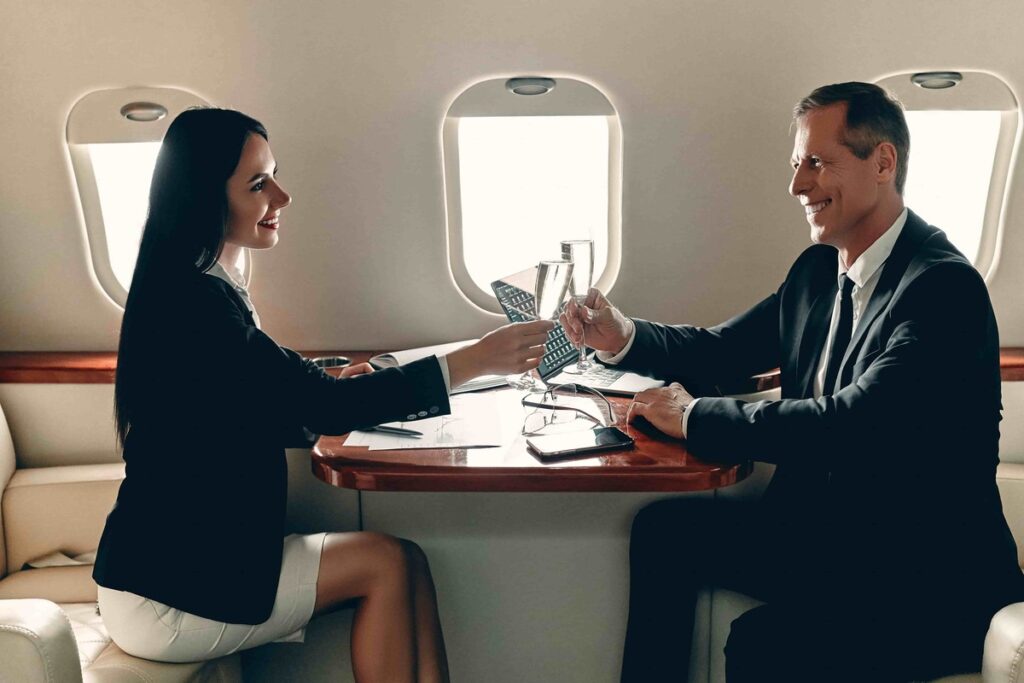 Access to Special Services
Do you need a unique service? In addition to all the amenities and services offered at New York FBOs, many also provide on-site concierge services. From making restaurant reservations to arranging for ground transportation, the concierge staff at New York FBOs can take care of your trip's details so that you can relax and enjoy your time in the city.
Luxury Cabin Arrangements
Traveling by private jet is the ultimate way to experience luxury travel. From plush leather seating to custom-crafted cocktails in the air, we help make your trip unforgettable. You can also choose from various luxurious cabin arrangements designed to make your experience as efficient and enjoyable as possible. Whether you need the ability to work, hold a meeting while in flight, or simply want to rest and relax, we'll help arrange the right set-up for your personal needs.
on-site_amenities
New York City FBOs offer many onsite amenities such as lounges, restaurants, and transportation options so you can relax before your flight or get directly to your destination quickly after landing. This makes traveling with a private jet much more enjoyable than any commercial flight experience.
Customized Services
No two travelers are alike, which is why New York FBOs offer various customized services to meet every client's unique needs. Are you planning to travel with your pet? They'll be able to travel comfortably with the ability to join you in the cabin. Need to arrange for food while in-flight? With access to a diverse selection of gourmet catering and restaurant options, we'll help you find something that satisfies your craving or meets a specific dietary need.
Bring What You Need
Traveling by private jet offers the benefit of bringing more of what you need on your flight. You don't have to worry about weight restrictions with commercial airline travel, so you can bring all your business materials, luggage, and personal items without paying extra. This makes it easier for travelers away from home for extended periods or when traveling with heavy equipment for business purposes. Additionally, many New York FBOs offer secure storage options if needed.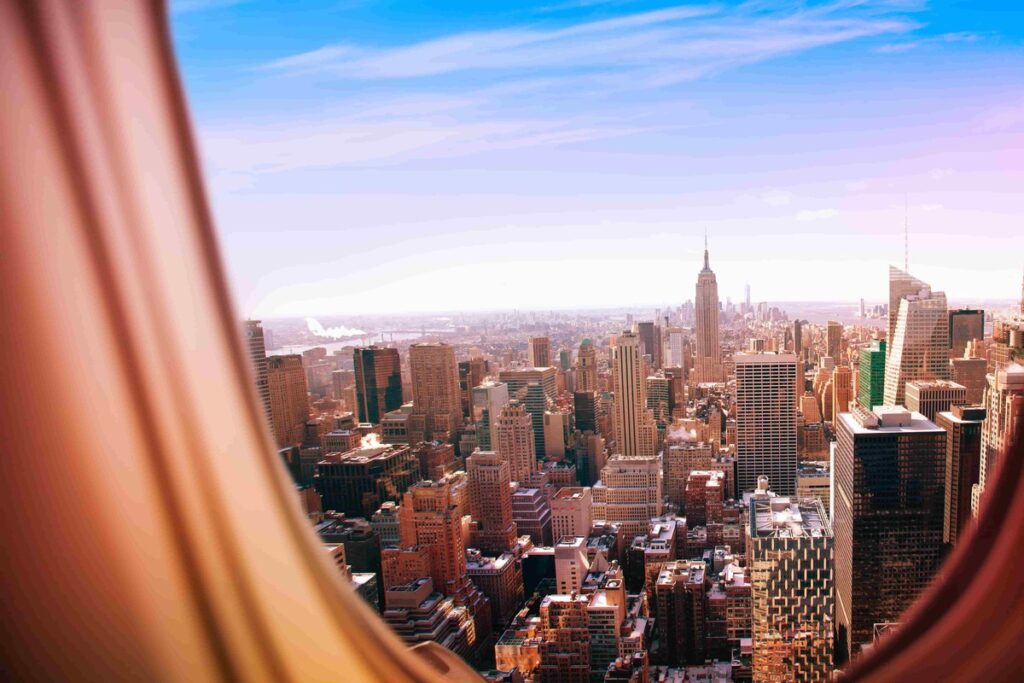 Experience a Luxurious Journey with Private Jet Travel to NYC
Private jet travel to New York City offers a variety of benefits, from increased security measures and VIP treatment to access to on-site amenities and customized services. Whether you need the ability to bring more items with you or have special requirements for your journey, our team can help arrange everything so that you experience the ultimate luxury travel experience. Traveling by private jet ensures that your trip is secure, efficient, and enjoyable.                                                                 
These are just some of the many benefits of flying on a private jet to New York City. Nothing speaks of affluence and luxury quite like taking a private flight. Business or pleasure, flying on your own aircraft is the difference between having a remarkable experience versus an average one – which is precisely why many people are willing to incur extra costs for it.
Whether you're attending an urgent business meeting or want to plan a lavish getaway – chartering a private jet is worth considering for numerous reasons. Of course, the ones mentioned above are only the beginning: plenty more benefits come with this luxurious mode of transportation.
Start Your Private Jet to NYC Journey Today with Charter Jet One
If you're considering a more comfortable and convenient way of traveling, it's time to explore the benefits of chartering a private jet. Whether your goal is shorter travel times or just want an unforgettable experience, contact us and request a quote for a private jet to NYC.